****If you have received a gift certificate, please contact us for a free consultation or to book in your session time.
A tattoo is a wonderful gift for any occasion, from christmas to anniversaries and birthdays you can gift something that is truly special and rest assure that we will provide not only a great tattoo but also the best experience for your friends or loved ones.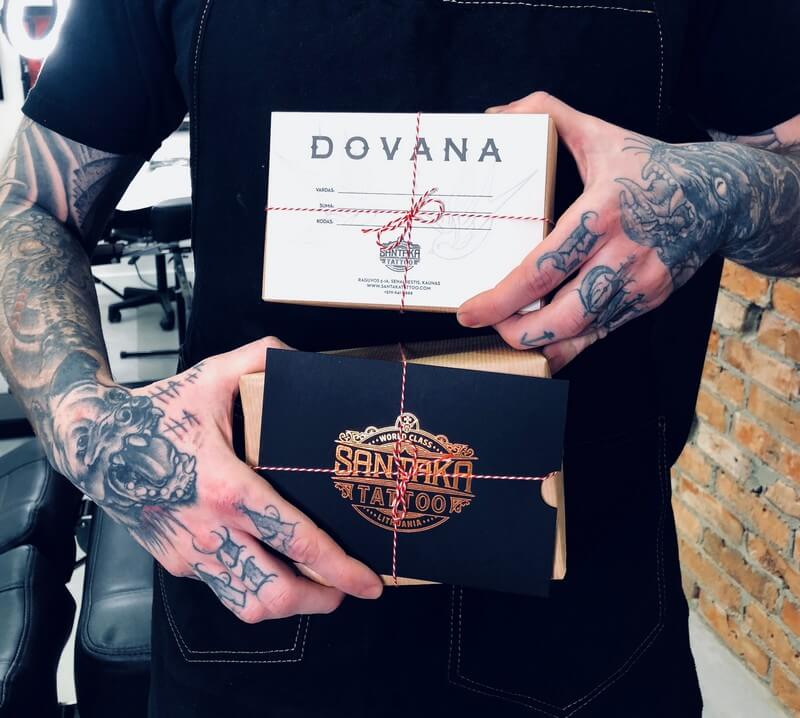 At our studio we like highest quality and attention to detail - for everything. Therefore we had our tattoo gift certificates designed and made by Lithuanian company elegantepress.
When buying such a meaningful gift it is important that the gift certificate reflects it and we think we got it just right, furthermore you can be sure that we will provide great customer service and make sure that the entire experience is more than pleasant.
Starting at 80€ you can buy a gift certificate and with it aftercare products or a T-shirt for a truly impressive gift. If the person wants a larger tattoo they can discuss it at the consult and the gift certificate will go towards total cost. Perfect gift for someone who is already getting tattooed or just thinking about their first one.
******We can post it too! Just contact us.

We would recommend purchasing a gift card for someone who is already working with one of our artists or is interested in their work. Because we do mostly custom work and book out far, we encourage anyone who received a gift certificate to contact us ASAP so that we can discuss your plans and match you with the right artist.
The gift coupon is valid for 1 year.
If the gift coupon is not used, the balance is not refundable.
After the expiration date of the coupon, the money is not returned, the gift coupon cannot be extended.
If the price is higher than the amount of money in the Gift Coupon, you can pay the difference.
Gift vouchers are non-refundable.